Funding for CASAT coordinated workshops was provided in whole or in part by the Nevada Division of Public and Behavioral Health and the Substance Abuse Prevention and Treatment Agency (SAPTA) through the Substance Abuse Prevention and Treatment (SAPT) Block Grant from the Department of Health and Human Services (DHHS) and Substance Abuse and Mental Health Services Administration (SAMHSA). Its contents are solely the responsibility of the authors and do not necessarily represent the official views of the U.S. DHHS, SAMHSA, or the State of Nevada.
---
CASAT Training is becoming CASAT Learning


---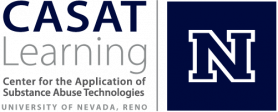 CASAT Learning is our new and improved registration and training platform where you can access self-paced online courses, as well as register for live webinars and in-person classes. Check out these courses, now available for registration!
Self-Paced Online Courses
Peer Support Specialist 101
Problem Gambling Intern Readiness
Principles of Detoxification: Withdrawal Management
Technology-Based Interventions: Exploring New Models of Care & Navigating New Ethical Dilemmas
Live Webinars
7-21-2021 At the Intersection of Guns and Mental Health: The Intermediate Course
8-31-2021 Principles and Practices in Narrative Medicine
9-8-2021 through 10-13-2021 Clinical Supervision Online Series | Wednesdays 10:00-11:30 AM
9-10&17-2021 Sexual Health in Recovery Webinar Series | Friday's 12:30 – 3:30pm
10-4&5-2021 Clinical Supervision Refresher: Technology-Based Clinical Supervision
11-4-2021 Confidentiality & HIPAA
In-Person Classes
10-15-2021 (Reno) The Art of Mindfulness and Clinical Practice
11-10-2021 (Reno) Motivational Interviewing
11-17-2021 (Las Vegas) Motivational Interviewing

---
Contact Us
For questions regarding CASAT Training courses please contact us at training@casat.org or (866) 617-2818.
For questions regarding licensure, certification, becoming a clinical supervisor, or internships please contact your board directly at the contact information provided below.
For questions regarding navigating Nevada's Managed Care Organizations (MCOs) a new resource is available. Please contact the Consumer Health Advocate at (702) 486-3587 or (888) 333-1597 or cha@govcha.nv.gov.
---
Join our Email List!
To stay up to date on all of CASAT's trainings please subscribe to our email list!
---
Call for Presenters
Interested in presenting for CASAT? Please complete the form below to submit your interest and someone will be in touch with you shortly.
Click HERE for the CASAT Training Call for Presenters